Parents' Letter
14 September 2021
Dear Edufront Parents,
Priority Registration for AY2022 weekly programmes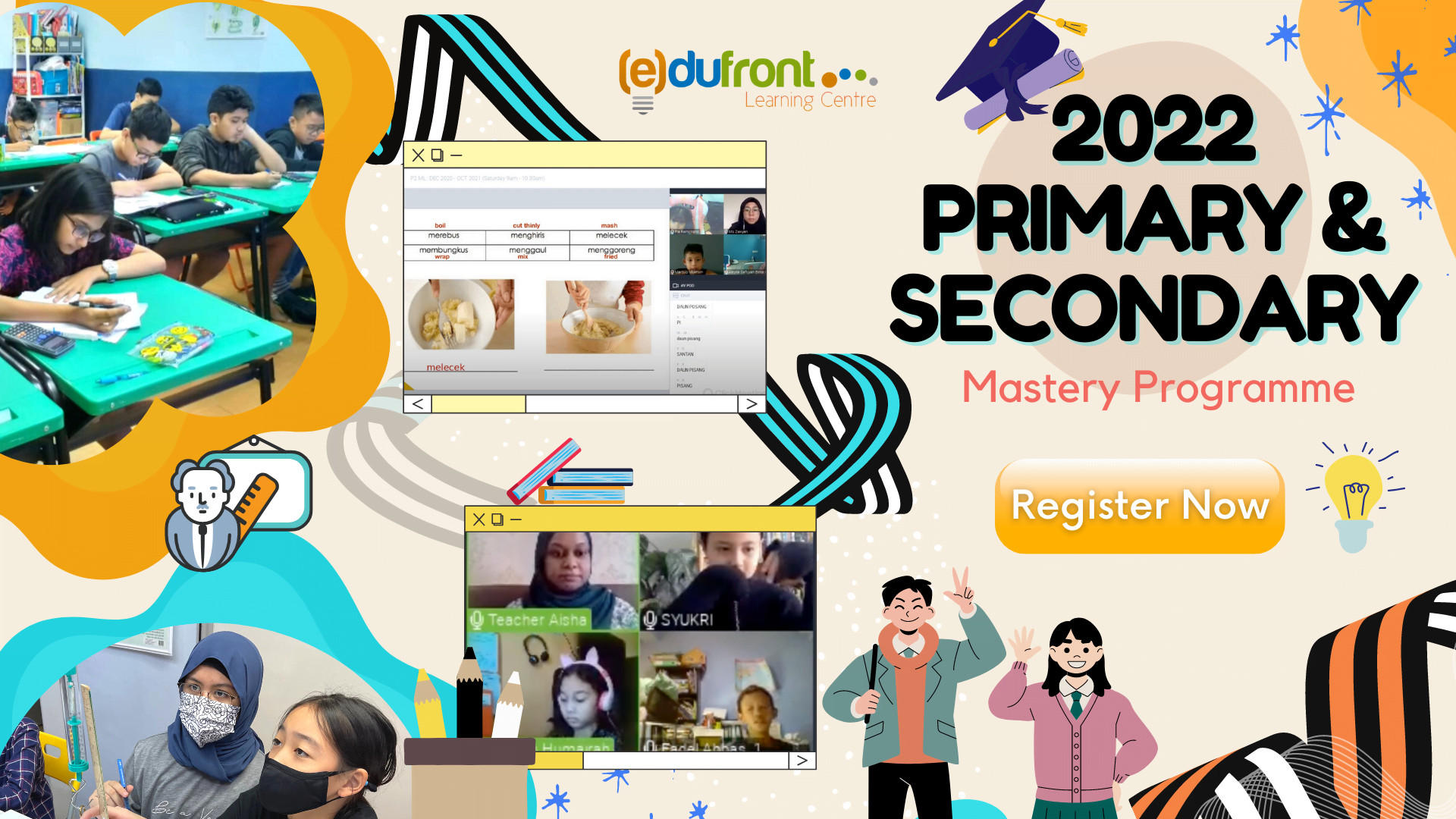 We are pleased to inform you that we have finalised the class schedule for AY2022 and priority registration is now open for current Edufront students. In AY2022, we will be operating at 5 physical locations (Choa Chu Kang, Pasir Ris, Serangoon North, Tampines and Woodlands Branch) and also Live-Online.
The first lesson for the AY2022 P6 programmes will be on the 5th Nov 2021. The other programmes will start from 3rd Dec 2021 onwards.
We will be offering the following programmes in AY2022:
• PSLE Mastery Programmes – (English, Maths, Science, Malay)
• Primary Maths Mastery Programme (P1 to P5)
• Primary English Mastery Programme (P1 to P5)
• Primary Science Mastery Programme (P3 to P5)
• KG, Primary and Secondary Malay/ Higher Malay Mastery Programme
• Secondary Maths Mastery Programme
Key Features of AY2022 Programmes:
• Materials developed by our Programme Directors – Mr Yang and Cikgu Hayati
• Subject specialist tutors who are mostly NIE-trained and highly experienced
• High quality materials and publications
• Multiple subject and sibling discounts
• All Edufront students have their own unique LMS account and will have exclusive
access to a wide range of learning resources in the programmes they are
registered in.
Key features of the LMS:
• Convenient access to Learning Materials, softcopies of worksheets and weekly
recorded online lessons
• Test papers and quizzes with automated marking for drill and practice and
revision of concepts
• Forum discussions with our tutors/Homework Hero for daily homework help
• Track student learning progress with report
We will like to invite our current parents to choose their preferred time-slots for
AY2022. Please book the slots early especially the PSLE Maths and Science classes by Mr Yang and also the P5 to S4 Malay Language Classes by Cikgu Hayati.
To view class schedule and to register do click the respective link below or simply
approach our Admin Staff on duty:
• Choa Chu Kang: bit.ly/2022cck
• Pasir Ris: bit.ly/2022pr
• Serangoon North: bit.ly/2022sn
• Tampines: bit.ly/2022tp
• Woodlands: bit.ly/2022wd
• Live-Online: bit.ly/2022online
Download ↓: AY2022 Priority Parent Letter.pdf